Talent Optimization will help your organization and your people thrive by identifying the key behaviors needed to succeed in each role, and helping leaders align their teams with their key business strategies — using people data, not guesswork.

When organizations clarify what is needed for each role, they can add the right people to the team. When they know what motivates and inspires each individual, they can maximize employee engagement and performance. And when they have the right teams working on the right strategies, they can get the results they desire. That is talent optimization!
Put simply, when your people strategy is aligned with your business strategy, you are more likely to optimize your business results.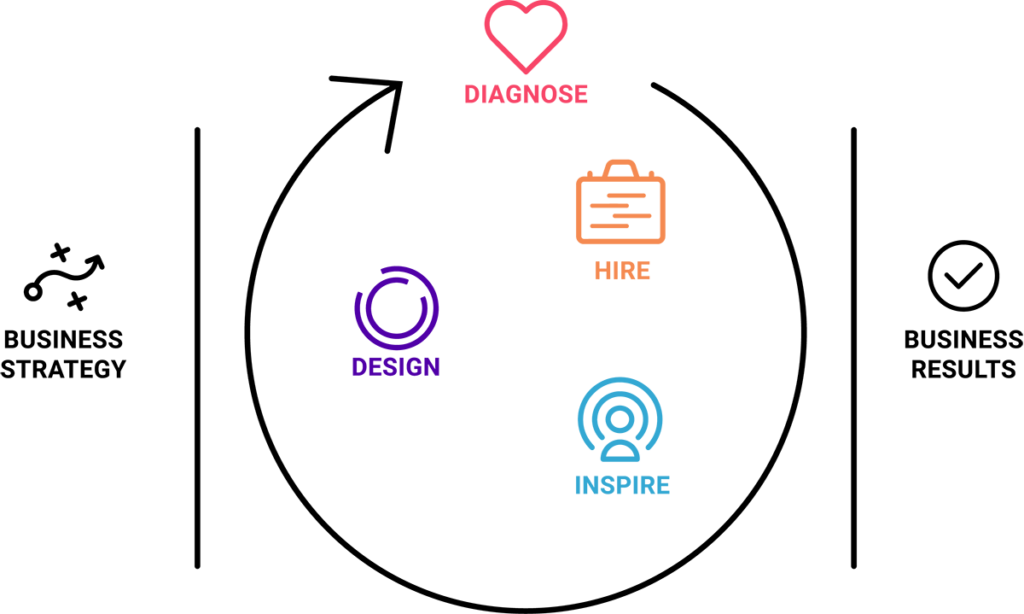 The Four Aptitudes of Talent Optimization
1. Diagnose: You'll measure your people data, analyze that data, and prescribe remedies as needed. This is an objective process — not based on guesswork.
2. Design: You'll evaluate and evolve your organizational structure and your people strategy for optimal performance.
3. Hire: You'll use people-data insights to recruit, identify, and hire top talent and build high-performing teams.
4. Inspire: You'll use people-data to drive important, employee-focused activities and initiatives that create desired outcomes.
Behind these four aptitudes of talent optimization are the discipline's four essential truths.
The Four Essential Truths of Talent Optimization
1. Business context frames talent optimization.
Talent optimization is informed by business strategy and it produces the desired business results. In other words, business context drives your talent optimization efforts. It will guide you in everything you do, from creating the structure of your organization to evaluating the essential skill-sets of your leadership team.
2. People data drives talent optimization.
When you put people analytics at the forefront, you can make informed, objective decisions. People data helps predict workplace behavior so you can make the right hires, design the right teams, and retain your top talent.
3. Everyone in the organization must embrace talent optimization.
Talent optimization is powerful, but unless the entire company embraces it, it won't be effective. When you give your entire organization access to people data, you grant them the self-awareness that enables them to be better employees and create a healthier, more productive workplace.
4. Talent optimization promotes and supports employee engagement.
All four of the key areas that drive employee engagement are included within the talent optimization framework: job, manager, team, and culture. In addition, the talent optimization process helps foster employee engagement throughout the four phases: diagnose, design, hire, and inspire.
Why Talent Optimization Matters
You can create a business strategy and clearly articulate the results you want to achieve, but if you ignore the people strategy within your organization, you will inevitably fail at reaching those goals. Why?
Because it is the people that make up your organization, it is the people that are doing the work, it is the people who are driving the results. It's all about the people.
If you don't invest in your people or fail to strategically design high-performing teams, you're simply setting your organization up to underperform and possibly fail.
Ready To Optimize Your Talent?
You have already noticed that there aren't any buy-buttons on my website. The best way to see if there's a good fit between us is to have a conversation. Regardless of what we decide, I promise it will be of value to you. Let's talk — my contact information is below with a link to schedule a call or Zoom meeting.